Ara Tūhono – Pūhoi to Warkworth
LATEST UPDATES
State Highway One (SH1) – Road layout change and closures –Southern Connection & Road Closures Northern Connection – March 2023
Southern Connection – Road layout changes and SH1 road closures
From Sunday 26 March northbound travellers will exit off at the Pūhoi northbound off-ramp and be directed onto a short section of Pūhoi Road and then back onto the existing SH1. This change will be always in place until the safer, more resilient and reliable route fully opens in the second quarter of 2023.
This layout change allows the team to work safely in areas currently used by SH1 traffic as we prepare to move this section of the motorway into its final layout.
A temporary speed limit of 30km/h will be in place, and there will be traffic management (stop/go at peak times and temporary traffic signals at off-peak times) to assist with access to and from Pūhoi village.
Southbound traffic will continue to use the same route, however the southbound Pūhoi on-ramp moves towards its final layout of one lane with northbound traffic no longer using the ramp.
There are night works associated with the new layout change, and are scheduled to take place as follows: -
Full State Highway 1 northbound and southbound at the Johnstone Hill Tunnels, detours via Hibiscus Coast Highway or SH16
Sunday 26 March to Thursday 30 March, 9pm to 5am
Sunday 2 April to Wednesday 5 April, 9pm to 5am
Tuesday 11 April to Thursday 13 April, 9pm to 5am (contingency dates)
For full details of what is coming up please click here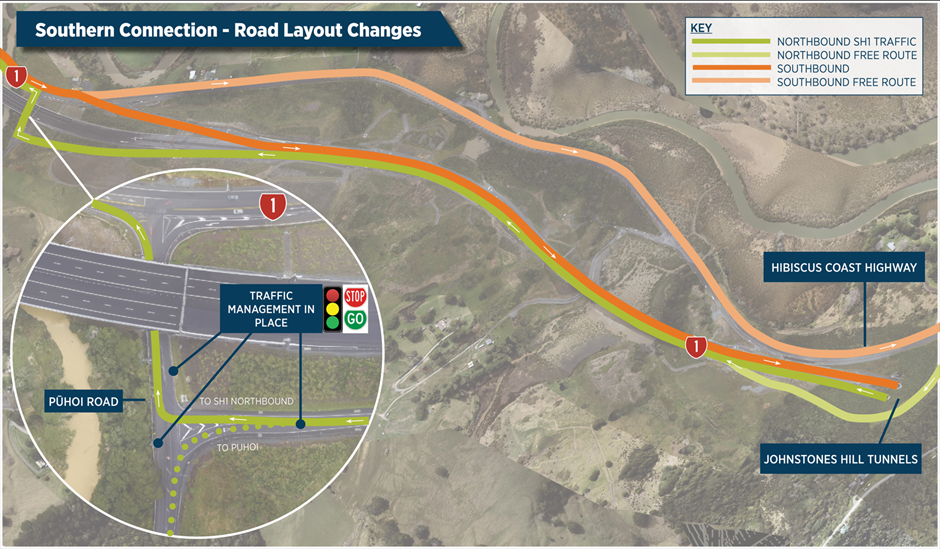 Northern Connection – SH1 road closures
At the Northern Connection, the project team will be undertaking pavement completion and tie-in works on SH1 between the Kaipara Flats Road / Goatley Road, and Hudson Road intersections. For safety reasons, a section of the road will be closed during the night while this happens.
Sunday 19 to Thursday 23 March – Full SH1 closure northbound and southbound from Hudson Road to Kiapara Flats Road, 9pm to 5am. Detour around Warkworth (via Woodcocks or Hudson Roads, Carran, and Kaipara Flats Road).
Sunday 26 to Thursday 30 March –

Full SH1 closure northbound and southbound from Warkworth to Wellsford, 9pm to 5am

.

There will be a detour in place via SH16, this detour will add up to 30 minutes to the journey. If you are travelling north, you can exit the motorway at Silverdale to SH16 and avoid the Warkworth area.
The planned SH1 closure between Warkworth to Wellsford, from Sunday 26 to Thursday 30 March, is still going ahead as planned – however this closure will be managed by the Waka Kotahi maintenance team as both teams are working together to get as much work done as possible during the closures.

For full details and maps of the closures please click here
LATEST DRONE FOOTAGE


PROJECT OVERVIEW
The Pūhoi to Warkworth project will extend the four-lane Northern Motorway (SH1) 18.5km from the Johnstones Hill Tunnels to just north of Warkworth. It is the first stage of the Ara Tūhono – Pūhoi to Wellsford project, and will open sometime in 2023.
Ara Tūhono means a connecting pathway (Ara meaning pathway/passage and Ara Tūhono means connecting or linking one part to another).
The highway will be built to the west of the existing SH1 and bypass Warkworth on the western side. It will be a four-lane dual carriageway, separated by a central median with a safety barrier.
Key benefits of the new route include improved safety and connectivity, more reliable journey times and a better freight connection for the Northland region.
The Pūhoi to Warkworth project is a PPP (Private Public Partnership) between the Government and a private consortium, the Northern Express Group (NX2).
While the NX2 private-sector consortium will be responsible for financing, designing, building, maintaining and operating the motorway for up to 25 years, the motorway will remain a public asset.